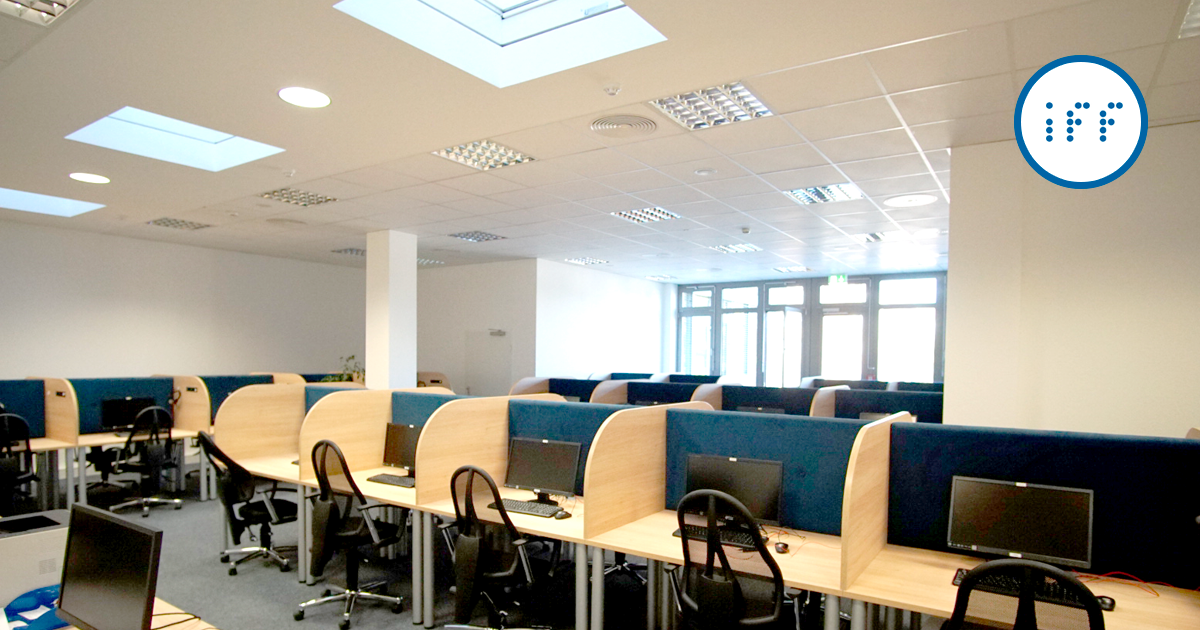 IFF Research Services has moved its headquarters to the heart of Frankfurt am Main
The IFF Research Services GmbH, which conducts CATI- and CAWI-projects, has moved its headquarters from Ulm to Frankfurt am Main in October of 2018. As an internationally acting company the IFF profits from its new central location in the fifth largest metropolitan city in Germany. Frankfurt am Main is also affectionately called Mainhattan due to its 14 out of the 15 largest buildings in Germany and stands out for its infrastructure and qualified personnel.
IFF Research Services, certified by ISO 20252:2012 and ISO 9001:2015, strives for a continuous optimization of its service portfolio and therefore a continuous growth on a national and international basis. The new head office, measuring approximately 430 square meters, contains an in-house call center with 42 CATI stations and an adjoining feedback room, multiple offices, a representative entrance hall and a conference room. With state of the art technology in the new head office IFF provides its clients with the best equipment to conduct CATI or CAWI projects.
Old team members from the old location in Ulm as well as new team members from the Rhine-Main area are now supporting Managing Director Christine Albrecht and Deputy Managing Director Baschir Karanouh, who joined the IFF in July of 2018 for operational support in day-to-day business, in their new head office.
IFF provides its employees with an attractive working environment and is pleased to be able to supply the highest possible quality of services to its national and international clients. As before, these include an extensive customer support with a single point of contact, a transparent and reliable project planning, a comprehensive briefing of all team members and interviewers involved in the project and a continuous control of the quality of fieldwork in compliance with the professional rules and ethics of the ADM and in an international context the ESOMAR.
Feel free to contact us for a quotation or to discuss your new CATI or CAWI project or simply stop by at our booth 177 in hall 1 at the upcoming Research & Results fair in Munich on October 24th and 25th.
Contact
IFF Research Services GmbH
Christine Albrecht
Managing Director
Dreieichstraße 59
60594 Frankfurt am Main
Phone: +49 69 247 563 900
Mail: C.Albrecht@iff-international.com
Other Articles
12 Aprile 2023

Siamo felici di condividere che Markus Albrecht si è unito al nostro team come Head of Branch Germania. Con i suoi 25 anni di esperienza nell'ambito della data collection, Markus c...

15 Febbraio 2023