Market Research Experimentation
25 October 2023
Immersive interviews: Market Research using VR
Imagine having a virtual supermarket, an interactive world to engage consumers and not only, where you can receive immediate feedback on existing and new products, where people can sort their favourite wine labels in order of preference. Imagine launching a new product on the market and having the opportunity to show your proposal, in 3D, to consumers and have them interact with the new pack. And if that wasn't enough, imagine having a virtual car dealership, where you can preview the latest features of the latest model coming out. Welcome to the immersive interview!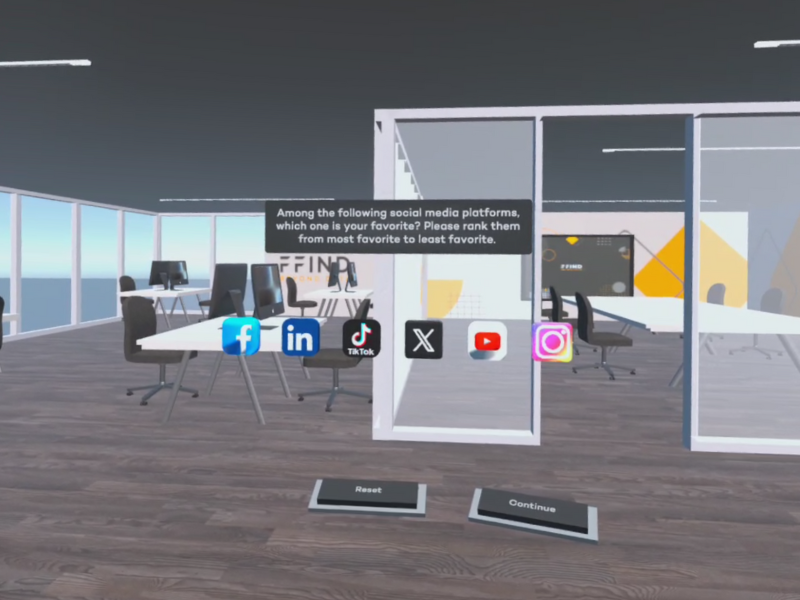 We probably should have started this blog post with a 'Ladies and Gentlemen, FFIND introduces you: the immersive interview". It's the enthusiasm, carrying the awareness that we have embarked on something innovative, that could soon lead to the emergence of a new methodology in market research and the introduction of new metrics to be taken into account.
We have a built-in passion for rewriting the rules of data collection by constantly looking for innovative tools and approaches (like VAI – Voice Assisted Interviews) to reinvent the research landscape. And in this spirit of innovation, we were drawn to the potential of VR headset, as we believe that the 2045 depicted in 'Ready Player One' is not as far away as it might seem. Companies like Apple and Meta, for instance, are devoting considerable investments to the development of AR and VR solutions.
For those who haven't seen it, in the film 'Ready Player One' Wade Watts, the main character, wears a suit and goggles to immerse himself in a virtual world called OASIS. Being inspired by this scenario, we wondered what the use of the goggles could be in market research, and this is where our OASIS was born: the Lighthouse project, an app that will soon be available for download on Meta Quest 2 and 3 headsets, which allows you to take part to immersive interviews.


The advantages of immersive interviews

Whether you are a researcher, a consultant or are simply wondering what the advantages of an immersive interview can be for your business/company, here are some insights: 
Deep Focus: the quality of the answers is higher due to the full involvement of the respondent;
Zero Distractions: the respondent is immersed in a 3D world they physically interact with and isolated from the outside world;
Innovative Metrics: this unprecedented scenario opens up new types of data and tracking.
Customising the Research Environment
Imagine having the opportunity to adapt the research environment to each unique context of your study. One day, the respondent might be walking through a virtual supermarket, choosing yogurt flavours and assessing acidity levels. Or, they might sit in a virtual restaurant, browsing through a menu of delicious dishes and making decisions based on their personal preferences. The possibilities are as endless as the imagination of the virtual world itself goes.

We presented the app during a speech at the annual research event in Paris, the Printemps des Études, where we showed the first two scenarios. We will unveil the latest developments during the next two events where we will be directly involved: Succeet 2023 in Frankfurt and Assirm Forum 23 in Milan.
In this new world of market research, the opportunities are endless and the potential for revolutionary insights is unlimited. So, if you are ready to dive into the immersive interviewing experience or simply want to know what possibilities we can offer you today for your study, get in touch with us!

Other Articles
Market Research Experimentation

26 July 2021

Artificial Intelligence in Market Research is not exactly a fresh news. For a few years now, we heard talking about Big Data, Machine Learning, Social Listening, that are all data ...

Market Research Experimentation

26 July 2021

In these times when we are having to make a fresh start, we should start off with market research. It has to be smarter than ever. When the Internet spread globally, market researc...

Market Research Experimentation

25 February 2020

Artificial Intelligence in Market Research is not exactly a fresh news. For a few years now, we heard talking about Big Data, Machine Learning, Social Listening, that are all data ...