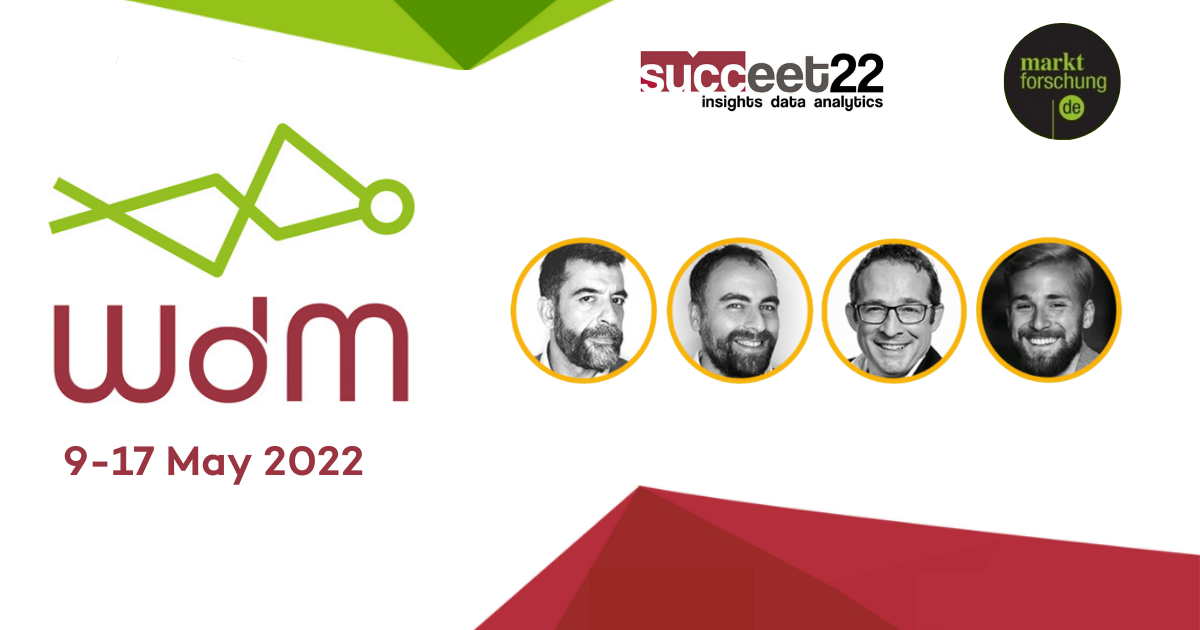 Woche der Marktforschung 2022: unser Vortrag zum Einsatz digitaler Technologie für die quantitative Marktforschung
Die WdM (Woche der Marktforschung) ist das von Succeet und marktforschung.de organisierte Online-Festival und findet vom 9. bis 17. Mai online statt.
Am 16. Mai um 15 Uhr beteiligen wir uns mit einem 10-minütigen Pitch, in dem Ennio Armato, Global CEO von FFIND, schnell den Einsatz von Alexa für die Marktforschung erklärt..
Am 17. Mai um 12.00 Uhr halten wir einen 50-minütigen Vortrag mit dem Titel Where traditional market research meets with the most innovative quantitative methodologies, ein echter Workshop mit praktischen Demonstrationen, um zu lernen, wie man neue Technologien (wie soziale Netzwerke und Sprachassistenten) für die quantitative Marktforschung einsetzt.

Es sprechen:
Ennio Armato, Global CEO
Alessandro Imborgia, Client Director
Ennio Perini, Verkaufsleiter
Philipp Mutmann, Projektleiter
Um an unserem Vortrag teilzunehmen, registriere dich hier, es ist kostenlos.

Es wird eine Woche voller Podiumsdiskussionen, Networking-Angebote, Unterhaltung und spannender Webinare.
In diesem Jahr werden Ipsos, GFK, GIM, Norstat, Produkt + Markt und Forsta unter den Rednern sein.

Other Articles
16 September 2022

18 November 2020

This year the national market research event will take place on November 19, 2020, for the first time online through the Digital Events platform. It is free of charge and as always...