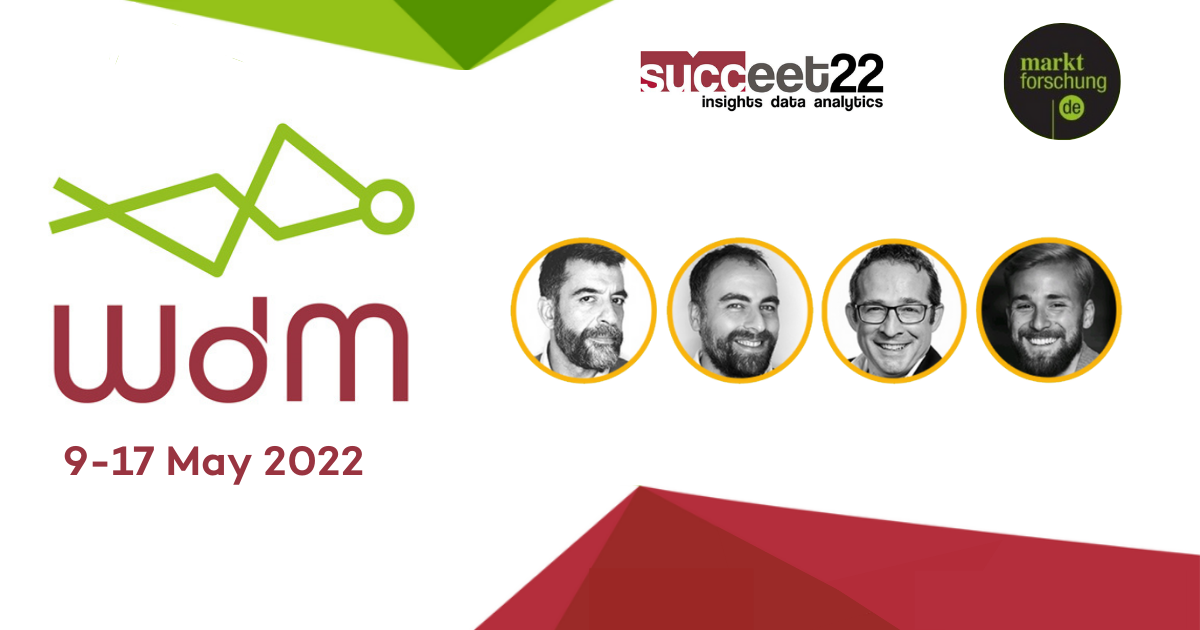 Semaine des études de marché 2022 : Notre prise de parole sur l'usage du digital pour les études de marché quantitatives
Le WdM (Woche der Marktforschung, ou semaine des études de marché) est le festival en ligne de l'industrie de l'information organisé par Succeet et Marktforschung.de et se tiendra en ligne du 9 au 17 mai.
Le 16 mai à 15h00, nous participerons avec un discours de 10 minutes dans lequel Ennio Armato, PDG Global de FFIND, expliquera rapidement l'utilisation d'Alexa pour les études de marché.
Le 17 mai à 12h00, nous tiendrons un discours de 50 minutes intitulé Là où l'étude de marché traditionnelle rencontre les méthodologies quantitatives les plus innovantes, un véritable atelier avec des démonstrations pratiques pour apprendre à utiliser les nouvelles technologies (comme les réseaux sociaux et les assistants vocaux) pour des analyses quantitatives d'étude de marché.

Vont intervenir:
Ennio Armato, PDG Global
Alessandro Imborgia, Directeur de clientèle
Ennio Perini, Responsable des ventes
Philipp Mutmann, Chef de projet
Pour participer à notre intervention, inscrivez-vous ici, c'est gratuit.

Le WdM est dans sa troisième année. Ce sera une semaine remplie de conférences, d'opportunités de networking, d'animations et de webinaires passionnants.
Cette année, les intervenants seront Ipsos, GFK, GIM, Norstat, Produkt + Markt et Forsta.

Other Articles
18 November 2020

This year the national market research event will take place on November 19, 2020, for the first time online through the Digital Events platform. It is free of charge and as always...

17 September 2020

This is the full video that we broadcast at ESOMAR Insight Festival 2020 on September 15, 2020.