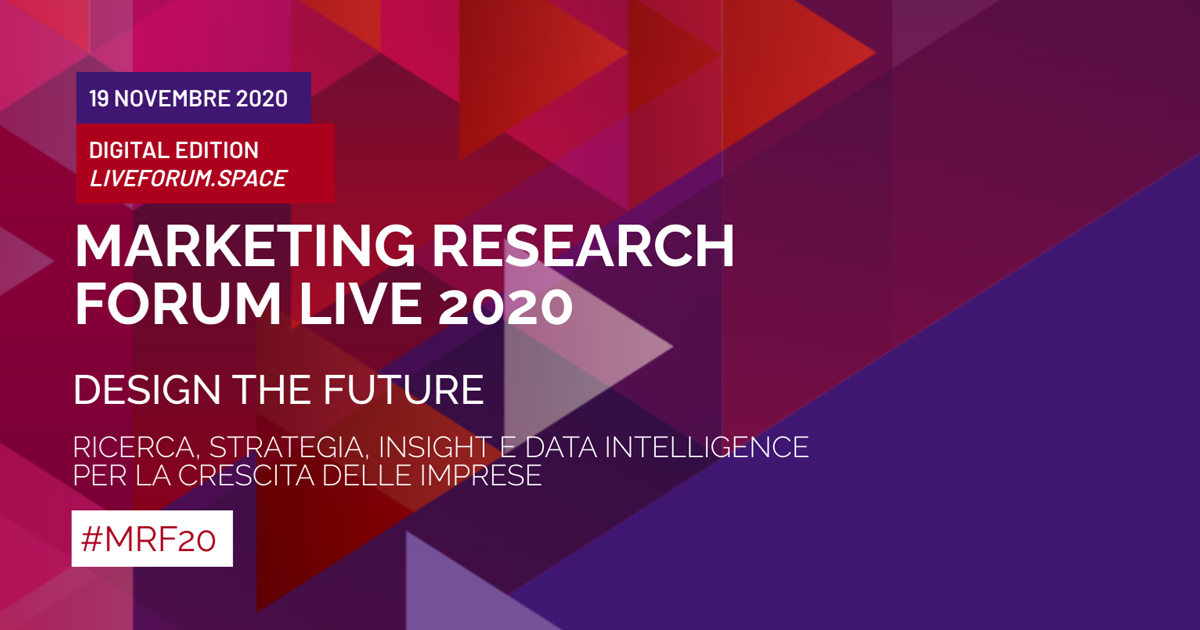 Assirm Forum 2020: il nostro speech è "Smart Respondent Era"
Quest'anno l'evento nazionale della ricerca di mercato si svolgerà il 19 novembre 2020, per la prima volta online, attraverso la piattaforma di Digital Events, non ha alcun costo e ha come sempre un palinsesto di speech di altissimo livello.
Ti aspettiamo nel nostro stand virtuale.
Possiamo chattare o vederci in webcam.
ISCRIVITI ADESSO AD ASSIRM FORUM»
La sessione plenaria si svolgerà di mattina, dalle 9 alle 11, che vedrà come attori principali ovviamente in apertura il presidente Matteo Lucchi, con un intervento fortemente ottimista, " La conoscenza può salvare i mercati". A seguire:
Conoscere per guidare il cambiamento
Giovani Imprenditori Confindustria
Rachael: il futuro è adesso
SWG e Regione Friuli Venezia Giulia
Per rimanere al passo del consumatore la ricerca deve diventare agile
Rai Pubblicità e Toluna
La conoscenza alla base del successo di imprese e talenti
LVMH Watch & Jewelry Italy, AXA Italia, Piaggio Group
Dialogo con IFF International & Dynata
Dynata e IFF International
Subito dopo la breve tavola rotonda con Dynata, alle ore 12.00 partirà il nostro speech:
Smart Respondent Era: Tik Tok surveys, webcam interviews e l'orecchio di Alexa nelle case dei consumers
Speakers: Ennio Armato (Branch manager) e Alessandro Imborgia (Client director)
Segue la sessione plenaria del pomeriggio introdotta da Tommaso Pronunzio, vicepresidente ASSIRM. Il primo intervento ha ospiti molto speciali, i rappresentanti delle principali associazioni della ricerca di mercato internazionale:
Joaquim Bretcha, presidente ESOMAR
Jane Frost, CEO di MRS UK
Maurice Ndiaye, co-president di ADETEM FR
Bernd Wachter, chairman of the board, ADM DE
Dalle 11 in poi, oltre il nostro workshop, ci saranno molti altri interventi di alto livello. Vi consigliamo di consultare il programma e di iscrivervi (è gratuito).